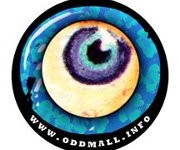 Are you up for something different? Tired of the ordinary same-old, same-old? Want to shake things up a bit?
Here's the cure:
Oddmall
, the self-titled "Emporium of the Weird". It promises to be not your average cutsy arts and craft fair.
I'll have a booth with some new work, never before seen in public. I'd love for you to be the first! Stop out and see me:
Saturday May 11, 2013
10am – 6pm
Clarion Inn
6625 Dean Memorial Parkway
Hudson, OH 44236
Read more ...